Neil Peart Drumsticks


A Photographic History by Michael DF Lowe
---
---
PRO-MARK ADVERTISEMENTS
---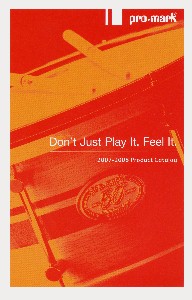 2007 Pro-Mark Catalog
(Click on photo for larger view)
---

2006 Guitar Center
(Click on photo for larger view)

2006 Drum! Ad
(Click on photo for larger view)

2006 Modern Drummer Ad
(Click on photo for larger view)
---

2005-2006 Pro-Mark Catalog
(Click on photo for larger view)

2005 Pro-Mark Catalog
(Click on photo for larger view)
---
| | |
| --- | --- |
| | 2005 Drum! & Modern Drummer Ad |
---
| | | |
| --- | --- | --- |
| 2005 Drum! Ad | 2005 Drum! Ad | 2005 Drum! Ad |
---
| | | |
| --- | --- | --- |
| 2004 Modern Drummer Ad | 2004 Modern Drummer Ad | 2004 Modern Drummer Ad |
---

2004 Pro-Mark Catalog
(Click on photo for larger view)

2000 Pro-Mark Catalog
(Click on photo for larger view)
---
| | | |
| --- | --- | --- |
| 2003 Drum! Ad | 2003 Modern Drummer Ad | 2002 Modern Drummer Ad |
---

2002 Modern Drummer Ad


2002 Modern Drummer Ad
Pro-Mark History Timeline w/Error
(Click on photo for larger view)
---

2002 Drum! & Modern Drummer Ad
(Click on photo for larger view)


2000 Drum! & Modern Drummer Ad

---


1998 Drum! Ad
---

1997 Drum! Ad
---
---

1994-1995 Pro-Mark Catalog #C694
(Click on photo for larger view)
---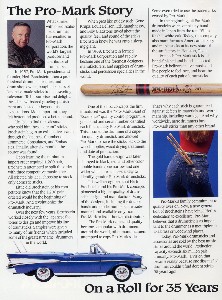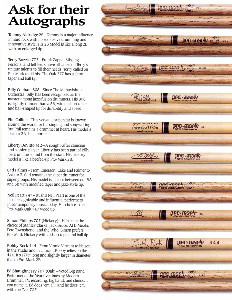 1992 Pro-Mark Catalog #C192
(Click on photos for larger view)
---
| | |
| --- | --- |
| 1991 Modern Drummer Ad | 1991 Modern Drummer Ad |
---
Pages Best Viewed at 1024 X 768 Resolution or Higher



All materials, text, and images used on this website are Copyrighted and/or Trademarked
to this website or their respective rights holders of said images, text or logos.
Images and/or content cannot be used without expressed permission from the website owner.
©/® 2005-2011 Pro-Mark - Ludwig - Tama - Drum Workshop - Zildjian - Sabian
Website created and maintained by Michael DF Lowe, November 2005


I am not currently employed by Pro-Mark nor have I ever been.


This website is run by a fan of the music.




Powered byIP2Location.com